ST. LOUIS — A group of people are believed to be responsible for a string of auto thefts and a murder in St. Louis, police say, and authorities recovered one of the vehicles Wednesday after an accident in Downtown West.
In less than 48 hours, police were called to eight auto thefts, two ATM robberies and one murder in south St. Louis. Police believe they are all linked.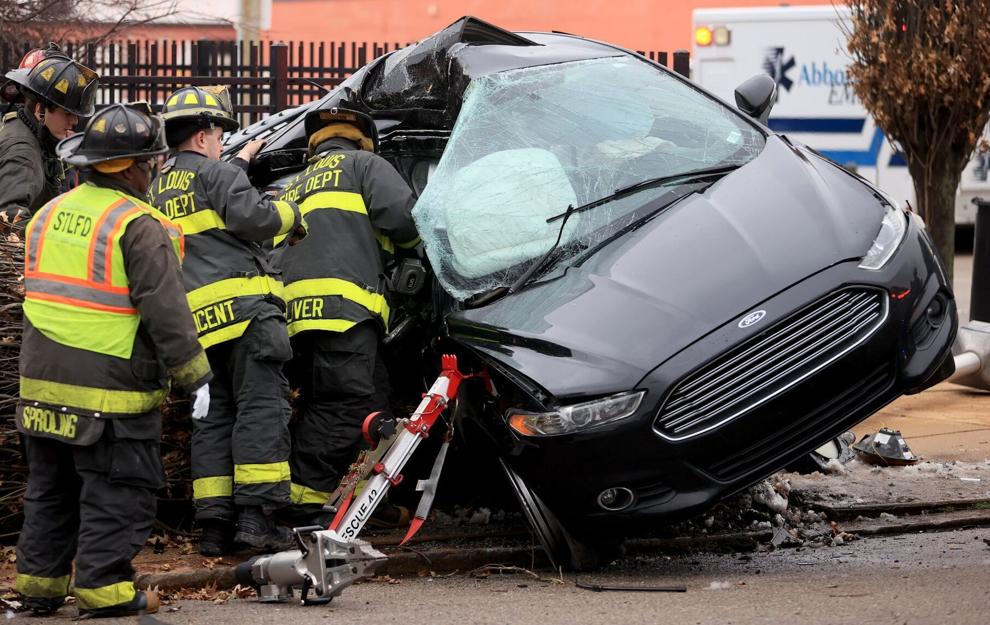 A joint task force of FBI agents and St. Louis investigators observed a stolen vehicle Wednesday when a man got out of the car and got into another stolen vehicle, said Major Janice Bockstruck of the St. Louis Police Department. Both vehicles had been stolen in carjackings – the first in the recent crime spree and the second in December, police said.
Police secretly pursued the second stolen vehicle until officers could put up spike strips, Bockstruck said. Once the car hit the spikes, it sped away, ran a red light, and was hit by another car at Delmar Avenue and 20th Street.
Police chased the car for about five blocks, St. Louis Maj. Ryan Cousins ​​told Post-Dispatch.
Bockstruck said police believe two boys and a man were in the crashed car. They all suffered injuries that are believed to be non-life threatening, as did the driver of the other car in the accident.
That driver, Johnny Brown, said he was traveling east on Delmar when the accident happened.
"Next thing I know, Bam, I didn't even see the car," he said. "I haven't seen it anywhere. Next thing I know I'm on the side of the road."
Bockstruck said it was too early for police to determine how many people might be involved in the recent crime spate, noting that the crashed car would be searched for weapons by the department's forensics team.
She said stopping crime is the department's "top priority."
Ahead of Wednesday's crash, St. Louis Police Captain Joseph Morici said officers were particularly concerned because shots were fired in several of the auto thefts.
"We understand that being the victim of a crime is traumatic, but should you find yourself in such a situation, you should do your best to remain calm and try to provide the best description of the suspect or suspects (and) the vehicles involved in the incident as possible," he said during a media briefing on Wednesday morning.
According to police reports, officers were called to two ATM robberies, three car thefts and one attempted car theft on Monday, police said.
One of these car thefts occurred around 6 p.m. in the Hampton Plaza Schnuck parking lot, just after 37-year-old Andrew Wasson loaded his groceries into his car. He said he replied to a text message while sitting in his parked car, selecting music for the drive home.
"While I was sitting there I heard something against the window and I turned and there was the gun," he told the Post-Dispatch. A white sedan had also pulled up and blocked him at the spot.
Wasson gave up his keys and ran to the store to call the police.
"It happened so fast, I'm not even sure I was thinking of anything other than getting the fuck away, you know?" he said.
Morici said police found Wasson's car at a gas station, and officers chased it toward Highway 40 (Interstate 64) and Interstate 170, where police lost sight of it. They recovered the vehicle Tuesday, Wasson said, but it was not drivable.
"I want to think of this as a crazy thing that isn't indicative of something that's going to happen in this neighborhood," he said, noting that he lives about a third mile from the Schnucks. "Because I've lived there for a few years and I've never felt unsafe here."
On Tuesday, police were investigating the death of 38-year-old Kay Johnson, who was found dead in her vehicle in an alleyway on the 4700 block of Compton Avenue in the Mount Pleasant neighborhood just before 7 p.m. They were also called to investigate an attempted carjacking just before 7:30 p.m. on Gustine Avenue and Delor Avenue in the Bevo Mill neighborhood.
Officers were called to three other car thefts early Wednesday.
"We probably have every detective in town working on this one way or another to get those connections," Morici said.
The captain reminded residents to always be aware of their surroundings when parking or entering their parked vehicles, not stopping in and near their vehicle, try to park in well-lit areas, and circle the area or block , if they believe that this is the case followed. And when an armed person demands their vehicle or other property, police recommend people comply.
"Your life is worth far more than any property," Morici said.