SRIPOKU.COM — Good news for you gamers who have been fond of several game titles on Android devices.
Google recently officially released the Beta version of Google Play Games specifically for PC.
The release of Google Play Games for PC now allows you to play several game titles that normally can only be played on mobile phones based on the Android system.
Google Play Games for PC can now be downloaded by gamers living in Indonesia, the Philippines, Malaysia, Singapore, the United States, Canada, Mexico, and Brazil starting today, Thursday (3/11/2022).
Previously, Google Play Games for Windows PC was first beta tested for gamers in Hong Kong, South Korea, and Taiwan last January.
Now, the game platform made by Google is officially released in beta in 8 countries.
The presence of Android games on Windows PCs is good news for mobile gamers who want to play the Google Play Games application on large screen devices.
Because, so far Android users have to use emulators to play games on their Windows laptops.
As observed by KompasTekno, gamers in Indonesia can download the beta version of Google Play Games on the official website play.google.com/googleplaygames or via the following link.
In an official statement received by KompasTekno, through Google Play Games for PC, Indonesian gamers can play at least 25 popular games, including:
Mobile Legends: Bang Bang

Summoners War

State of Survival: The Joker Collaboration

Three Kingdoms Tactic

[1945AirForce

Blade Idle

Cookie Run: Kingdom

Evony: The King's Return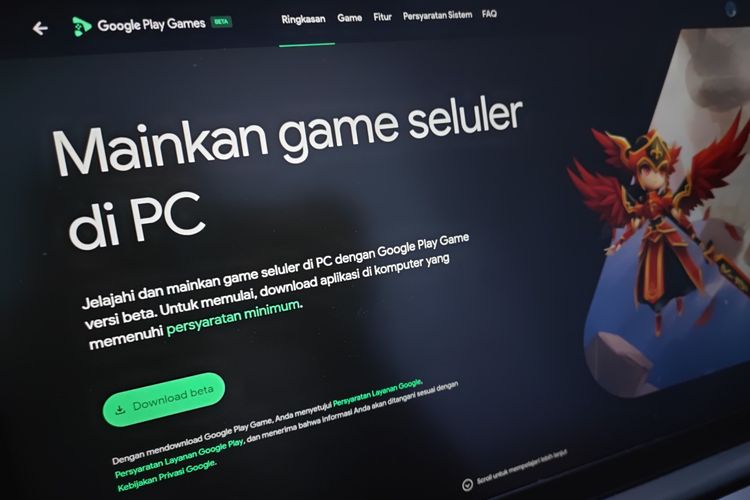 ===
Google Play Games Specifications for PC
Before downloading, gamers must check the minimum requirements to be able to run Google Play Games on their Windows PC, as follows: OS:
Windows 10 (v2004)

Storage: Solid State Drive (SSD) with 10 GB of free storage space

Graphics: Intel UHD Graphics 630 GPU or equivalent

Processor: CPU with 4 cores

Memory: 8GB RAM

Windows admin account

Hardware virtualization must be enabled
With this breakthrough Google Play Games, Windows PC users can search, download, and play Android mobile games on their Windows-based PC.