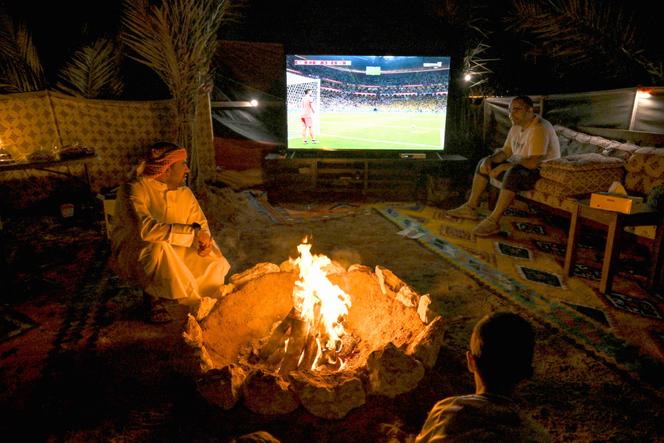 Benches arranged in a U under a palm grove, a circle of large stones to delimit the fireplace and a 2 meter wide flat screen connected to a satellite antenna: it comes from this camp, both rudimentary and luxurious, in a stony Klar erected in northern Qatar that Abdallah Al Thani, a 30-year-old member of the emirate's ruling family, will watch the World Cup matches.
Like many of the country's residents, the young entrepreneur, owner of a sporting goods import company, would not have strayed for the world from the tradition of Qataris heading into the desert during the cooler months of the year. Some only spend the weekend there, others stay there for weeks.
A path for these Gulf Arabs that has been passed down three generations from camel to Porsche and from mud houses to marble palaces to preserve their nomadic roots. "Pitch a tent, make a fire, sleep in the desert, it's part of my DNAclaims Abdallah. The country is young, Bedouin blood still flows through our veins. "We have a saying at home, adds Salem Al-Kuwari, a cousin of Abdallah. If you don't know your past, you have no future. »
The living room in the middle of nature is furnished on the family property, where Abdallah plans to build a farm. Stables have already grown out of the ground. They house four thoroughbreds with which the lord of the place wants to take part in long-distance races. A flock of two hundred sheep is about to be delivered to him, and an old well stagnant with blackish water is being cleaned. A little further on, Bangladeshi laborers, trowel in hand, are building the walls of a small stone-and-mortar kitchen.
servant and generator
The place is not far from the city of Al-Khor, where the opening ceremony of the World Cup will take place this Sunday, November 20th. As darkness falls, the garland of street lamps on the highway leading to Al Bayt Stadium, where the opening Qatar-Ecuador game will be played, glows on the horizon. Other lights slip around, signaling the presence of several other camps.
Purists set up big marquees, baptized beit shaar ("House of hair", in Arabic), made of very insulating blankets. The coziest opt ​​for fully equipped caravans with bedroom, kitchenette and shower room. In any case, the generator and servants that are ever-present in the lives of the wealthy classes in Qatar are part of the journey.